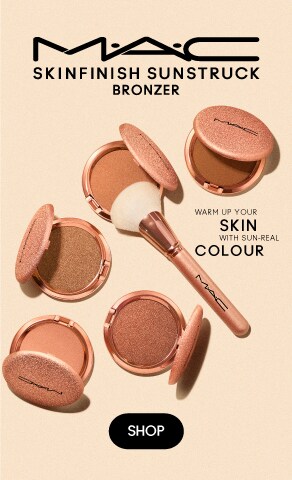 BLUSH AND BRONZER
Blush has the power to enliven and amplify your entire look. It's usually applied to and worn on the cheeks to create a natural-looking youthful flush of rosy colour. Wherever you want to add a touch of sheer, radiant colour, sweep on Mineralize Blush.
Blush is a perfect way to enhance your features and create a youthful glow. It's important to know your face shape to help inform where and how you want to define your face. People with round faces, for example, should consider applying blush under the apples of their cheeks for more definition.
Use either a blush brush, such as the 129S Powder/Blush Brush, or your fingers to apply. Blush can be worn without other makeup or on top of primer, foundation and/or concealer. Powder Blush adds fantastic colour to cheeks with ease and consistency.
Bronzer is made to add depth and definition to the face and amplify a natural, sun-kissed glow. We recommend using a large fluffy brush to apply, such as the 150S Large Powder Brush. Choose the appropriate brush and glide it over the bronzer. Tap off the excess powder and apply the bronzer to your face as desired, using circular motions. For products with highlighting effects, such as Mineralize Skinfinish, focus applying the product to the high planes of your face (like your cheekbones) using a tapered blending brush, such as the 224S Tapered Blending Brush.
WHAT IS BRONZER USED FOR?
Bronzers are incredibly versatile and are made to add warmth and definition to the face. They can be used alone, to help set foundation and/or touch up makeup throughout the day. Bronzers are not a tanning solution. For a healthy- and natural-looking glow, we recommend starting off with Mineralize Skinfinish Natural, which provides a dimensional yet natural finish.
WHAT IS THE DIFFERENCE BETWEEN BRONZER VS. BLUSH?
The main difference between bronzer and blush is that one adds warmth and the other adds a subtle flush of colour. It's important to consider the purpose of each product when you're wondering where to apply both. Bronzer gives you a golden, sun-kissed glow, so you'd want to apply it wherever the sun typically hits your skin, such as your forehead, cheekbones, nose and jawline – as well as the neck and décolletage area. Blush provides a soft, rosy flushed look, so you'd want to apply it to your cheek area.